Harrison's Story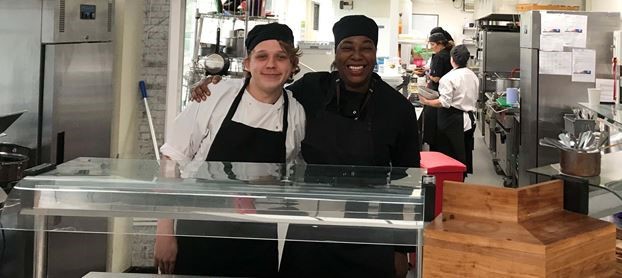 Harrison engaged on our most recent Traineeship programme held at Craven Cottage over a ten-week period. During the completion of his initial "Work Star" report it was telling to see his comments and reflections concerning himself. The main tenet of his own self-assessment was that "I haven't really thought about it". Whilst he is clearly an intelligent young man with GCSE passes in English, Art, and Maths and with an interest in computing and programming he was demotivated and lacking in any direction or structure. This was reflected in his personal life in terms of sleeping patterns where he would not go to bed often until 4am which impacted upon both his mood and eating pattern. Physically, he appeared tired and listless but importantly during our 1-1 he was very open and candid about this and showed a real willingness to change. He simply needed that spark or catalyst to respond to in order to remove him from his lethargy.
From school he had drifted from casual work, labouring and sales without any notion of what he really wanted to do. He was asked directly what his interests and ambitions were and this generated a conversation about technology and art and design. He had started a course at Kingston in Art and Design but failed to progress and I encouraged him to maintain this interest even if it wasn't to university level and we discuss outlets for his creativity.
He attended a computer programming workshop provided by "Digilab" a computer company based in SW London. Participants were encouraged to create and design their own greetings card. From there he really developed an interest in programme design and spent a number of weeks at their offices during the work placement period. They were extremely impressed by him saying that he was "a very quick learner" and "could easily make a career for himself in web design".
He was also interested in catering and gained a placement at a grassroots football club's café: "The Lemon Tree" café where the Manager Yvonne commented: "A nice young man, good at taking instructions and eager to help".
It wasn't until after we had completed our employability week for the Traineeship that Harrison showed any interest in working within the catering industry. During the employability week which took place in Westminster, Harrison did struggle to get to the venue on time on the first day. This was an aspect of the Traineeship that was important for the trainees. Harrison lives over an hour away from the venue and needed to work out the best way to travel, this included buses, the underground and walking. As the week progressed Harrison improved his time keeping and arrived on time a couple times during the week. The modules taught during the employability week were; achieving success at interview, personal presentation for the workplace, personal behaviour for success, solving work-related problems, working in a team, understanding how to deal with customers' requests, queries and problems and Food hygiene.
The week course was a good building block for Harrison as he had to attend two interviews before his work placement could begin. The first interview was with the clubs head of HR and the second was with Jacqueline Wilson and the head of HR. These would have been Harrison's first interviews for over a year. The fact that he was successful for both of these is further proof of his development from NEET to work ready.
He was then offered a more permanent role at the catering department of Fulham's Training Ground at Motspur Park which was local to his home. He has now been there for the best part of three months and clearly enjoying it. His line manager, Jaqueline Wilson, has commented: "He has come on leaps and bounds since his arrival and is an important part of the kitchen team. He is especially good at prep work on a daily basis. His help in the kitchen is paramount and he is always willing. I hope he becomes an integral part of the team, moving forward, but this is really up to Harrison to be a team player within the Kitchen team, as well as within Fulham FC. I feel that Harrison gets on well with the kitchen team and I know the team like him a lot, even though he is quite shy. I'm always going on at him about something or other but he takes it with a pinch of salt, as he knows how much I like him. I hope he continues to do well, and that we can give him the opportunity, to fulfil his role, leading to a greater path in life."
I have visited him there myself and he is quite simply a different person, smiling and far more upbeat than when we first met. Staff there have also commented: "He's fitted in really well, keeps good time and doing really well".
His "Work Star" shows a significant rise, whilst he remains realistic that he can also make more of himself. His "Aspiration and Motivation" along with "Social Skills for Work" are markedly improved. I have encouraged him to keep reflecting and reviewing on where he hopes to be and achieve whilst also emphasising how well he has done in taking these initial steps. His simple comment of: "I'm a lot happier now for sure" speaks volumes. I also had the opportunity to speak with his mother and she was thrilled by the change in him, both physically and mentally. She commented: "This course was exactly what he wanted. It's been a revelation, really. Thank you very much".