Mary: Our Fulham Team Mate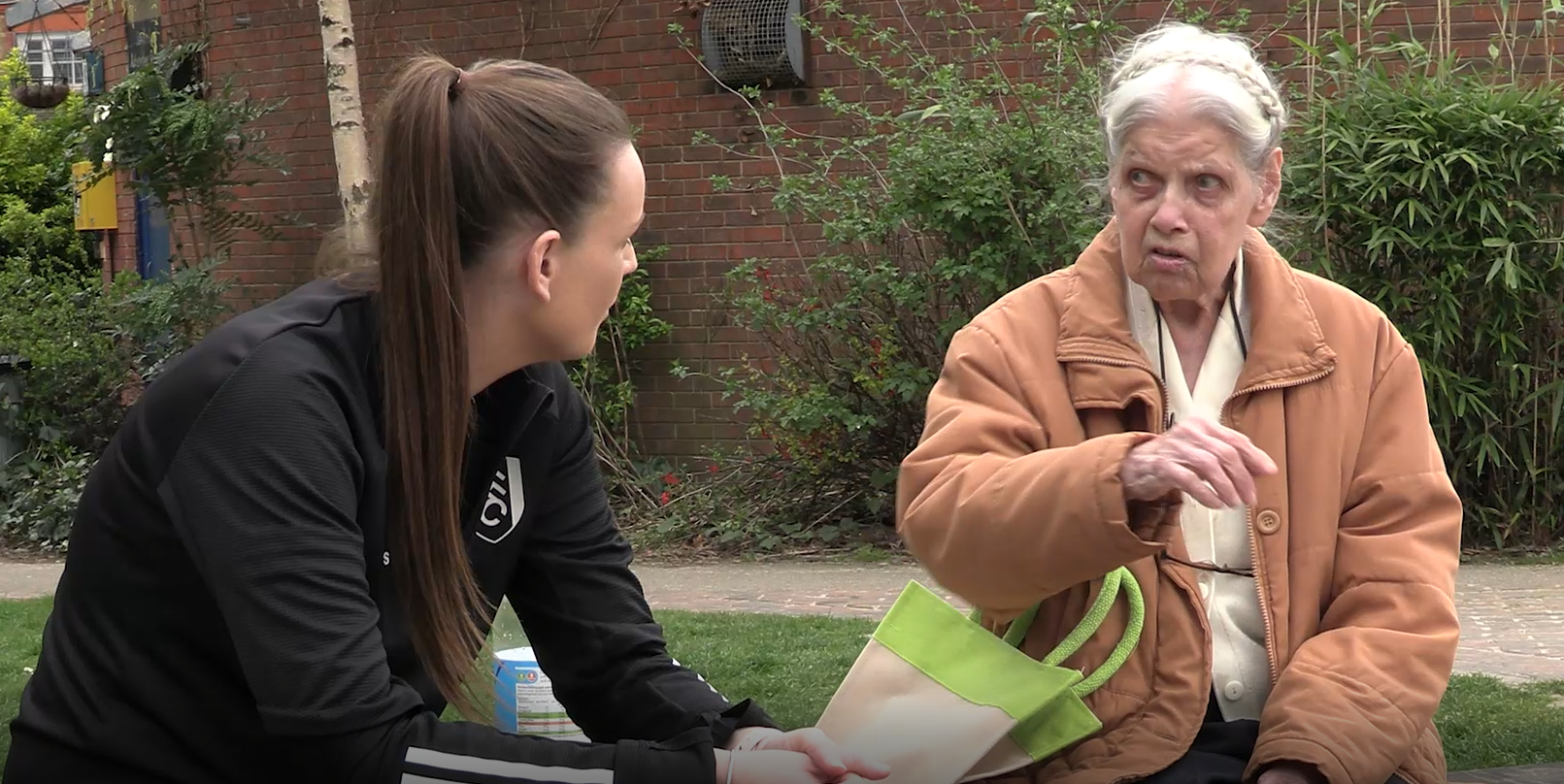 Mary is 91 years old and lives alone. She's always been an active part of her community, from running weekly knitting classes for children and adults in the local library to leading a local luncheon club. She enjoys cooking and going out for walks, however in January 2020 Mary suffered a fall and broke her hip meaning she had to stop all of her usual activities.
She was still in the process of recovery when the COVID-19 lockdown started in March 2020 which hindered her recovery progress and cut her off from her community. As a result, Mary reached out to her local Primary Care Network (PCN), the South Fulham PCN, to ask for support. The South Fulham PCN referred Mary to receive befriending support from Fulham FC Foundation and so since April 2020 she has been speaking to Sam, our Female Football Development Officer, every single week.
In July 2020 as part of the Tackling Loneliness Together initiative with the EFL Trust, funded by the DCMS, the Foundation were able to launch the Fulham Team Mates programme. The programme aims to decrease loneliness, increase social connectedness, and improve wellbeing in the local community by offering regular befriending support, online activities, 'garden-gate visits', mailed out activity packs, and an intergenerational pen pal scheme. As part of Fulham Team Mates, Mary was able to continue receiving regular phone calls from Sam, receive an activity booklet, and be part of our pen pal scheme.
It's really important to Mary for a number of reasons to be part of Fulham Team Mates, she said "I have thoroughly enjoyed the calls as it breaks up the week for me. Sometimes the walls feel like they are closing in so I endorse it 100%. It is so lovely to talk to somebody. I really do appreciate the calls." She was especially pleased to be able to take part in the intergenerational pen pal scheme, "I love it! It's a wonderful idea! I couldn't believe it when I received the letter, I was thrilled to bits and it's just lovely! I also thought how caring it was of the children to write a letter to me. I feel that generations can be shut off, so this pen pal scheme is marvelous." For Mary, Fulham Team Mates has been integral to improving her wellbeing during this isolating year.
Sam has been speaking to Mary every week for the last 7 months, "I've built up a strong relationship with Mary. The calls between us now feel like I'm on the phone checking in with my own family. I can really see the benefit this programme's had on her as it's allowed her to still feel connected to the community despite the pandemic."