Pen Pals – Becoming a Fulham Team Mate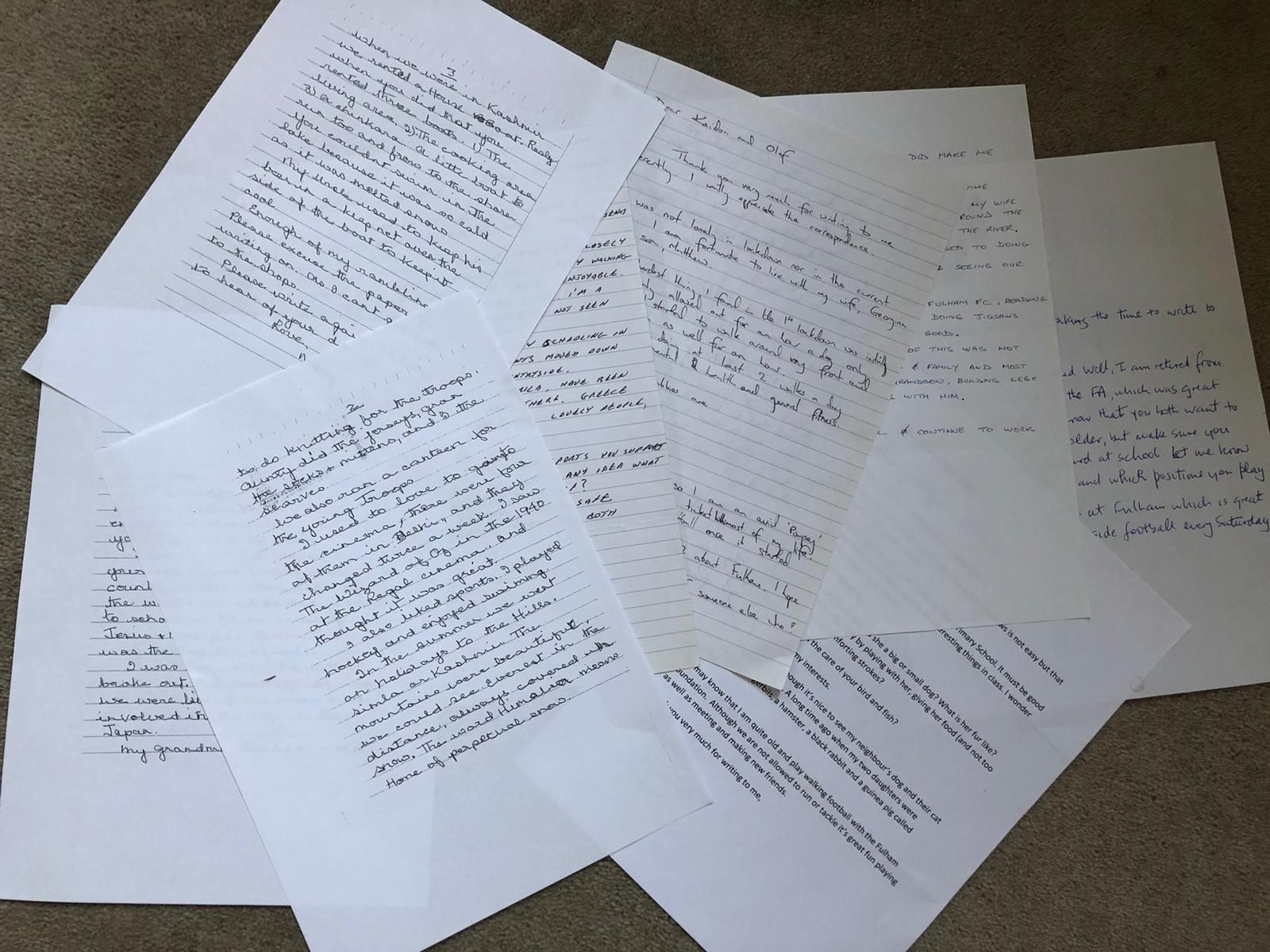 As part of our Fulham Team Mates programme, we aim to reduce feelings of loneliness in our local communities.  During the Covid-19 lockdown we created an intergenerational pen pal scheme. We created the scheme to encourage our Fulham Team Mates participants to think more widely about their personal support networks but also as a way of increasing their social connection to the community and ultimately improving their wellbeing. We also wanted to support young people to think about how they can support others in their community, while improving their own literacy skills.
Anna is a year 6 pupil who was invited to take part in this new programme. Anna is part of the Gorringe Park Primary school Reading Stars programme which is delivered by Fulham FC Foundation Coaches Connor and Tyvon. Anna was intrigued by the programme and was looking forward to writing a letter and eager to hear the reply.
Not only was this a way of giving the pupils ideas of what they could include in their letter but it was also a way of helping the pupils in their own life and how it can benefit their own wellbeing in the future.
During the session, the pupils would prepare their letters. Anna began planning what to write. She found out that she would be writing to 91-year-old Mary.
To begin with the letter, Anna went on to introduce herself, explaining who she is, what school she attends and what her hobbies and interests are. She put down answers, which would give Mary an idea of what she was like. However, it was at the end of the letter where she really shone. She began to ask Mary questions, thinking really how she could connect with her. These questions would be asking how Mary has been throughout this troubling time, whether she was managing but also things that Anna was interested in. What are your hobbies? What did you do when you were my age? They were asking questions that were able to jog Mary's memories, bring back moments which she had forgot or that had been lost but reignited thanks to these questions.
Finally, as part of the letter, Anna gave Mary suggestions on what she could do to keep herself busy during lockdown. These were activities that she herself had done and would continue to do. These activities could range from writing, reading books, dancing, baking and many others.
This case study is a great example of different generations coming together to bring light during Covid-19. It is a brilliant way of connecting people together and can bring different experiences and lives together.
Anna showed a great interest in writing letters and enjoyed the letters that she shared with Mary. Our coaches suggested this could be a way of the young people keeping in touch with their own family members or friends.
"I liked writing letters. We got to write to new people and they wrote back. It was fun to learn about her childhood." Anna, Gorringe Park Pupil
Sam Hadley, Female Football Development Officer at Fulham FC Foundation, had been calling Mary once a week since April and had done such a brilliant job that Mary was keen to get involved in the pen pal scheme. When Sam spoke with her after her letter had arrived Mary said, "It has made my week"!
Mary read Sam the letter from the two girls at Gorringe Park, and for the duration of the call (1 hour), Mary couldn't stop speaking about the letter and how she was looking forward to replying. The letter had some ideas on how Mary can stay busy ranging from making a scrap book, to making lemonade in the summer and selling it, and to drawing (as that's what they liked to do). The other idea was to dance which Mary found most amusing!
Mary also mentioned that just thinking of what to reply to the girls in her letter made her think of her own childhood memories. These are important for Mary as she doesn't have many friends left that she can reminisce with about her childhood. Mary said it was important for the older generation to 're-jog' and remember memories that they had created and the letter had certainly helped her remember her own memories. Sam has built a wonderful relationship with Mary and said, "I honestly can't express how much this letter has meant to Mary, and she is looking forward to receiving another pen pal letter soon!"
"I love it! It's a wonderful idea! I couldn't believe it when I received the letter, I was thrilled to bits and it's just lovely! I also thought how caring it was of the children to write a letter to me. I feel that generations can be shut off, so this pen pal scheme is marvellous." Mary