Tom Prisk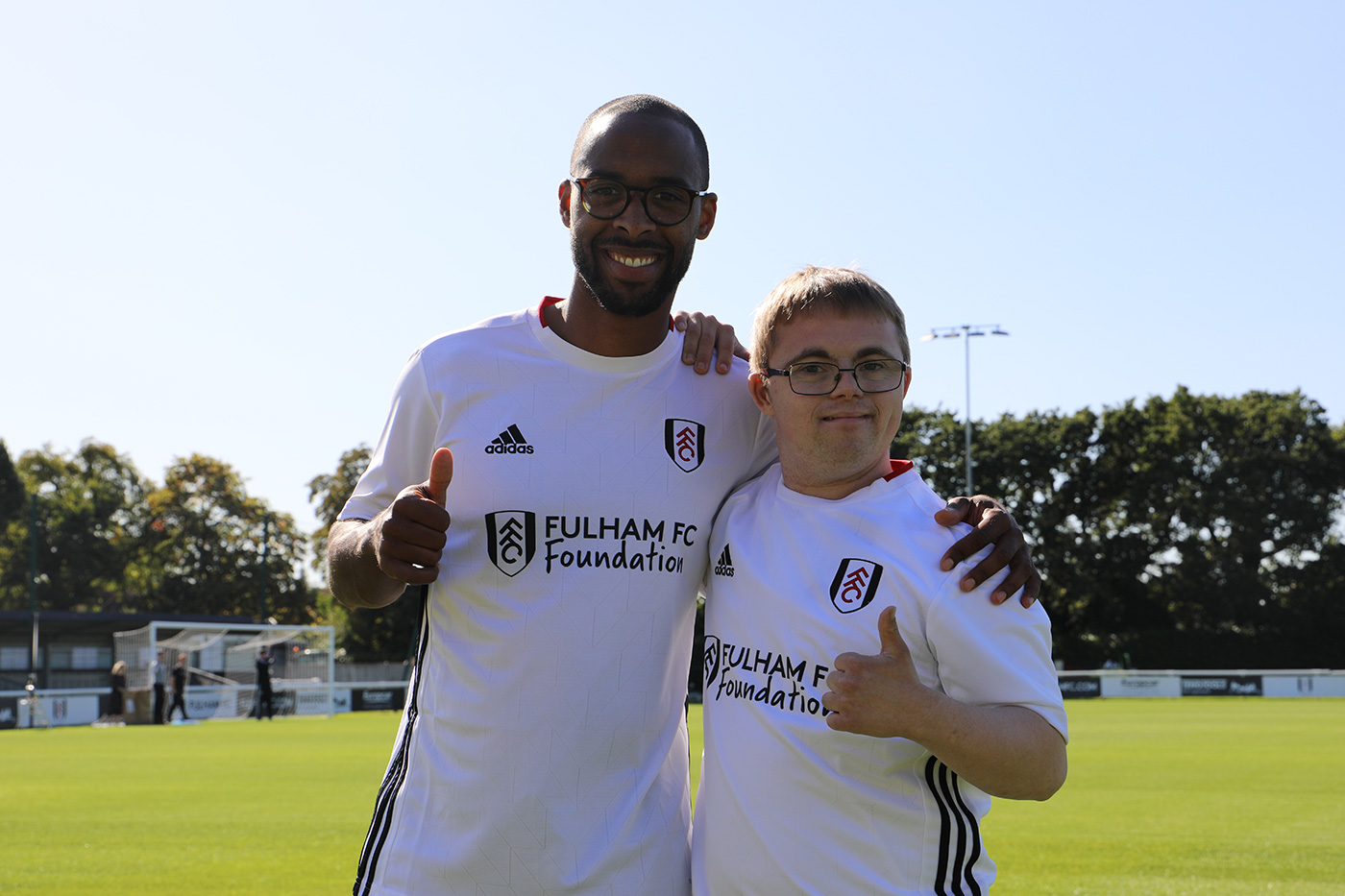 Tom Prisk has played with the Fulham Badgers, the Foundation's Down's Syndrome football team for a number of years. Over his time with the Badgers, he has had an opportunity to get involved with some brilliant programs including the launch of the 150 years Fulham FC Shirt, where he was involved in a photo shoot with first team players at Craven Cottage. More recently, Tom has completed a 12-week Traineeship with Fulham FC Foundation, learning to code and design websites, as well as core skills in photography and videography. Whilst also completing further courses in functional Maths and English. As part of the Traineeship Tom had to complete a work experience placement. Which he did with Fulham FC, working on reception at Craven Cottage and in the warehouse at the Fulham FC Training Ground before securing himself a job at Travers Smith LLP in Holborn.
During Toms journey with the Foundation he has formed friendships with colleagues and players notably Denis Odoi. This gave Tom a newfound confidence and he decided he wanted to try something new. Tom took himself out of his comfort zone of playing just with other players with Down's Syndrome, and joined the new Adult Pan Disability Sessions on a Monday evening.
Since joining these sessions Tom has really developed a new sense of belonging to Fulham FC as a whole and not just the Badgers. He has been able to be involved in so many departments at the club and enjoy the benefits of becoming part of a wider family and social network. He recently took part in the first Adult Pan Disability friendly fixtures for Fulham FC Foundation at the Training Ground, followed by a social evening with food and drink, together with the opposition teams.
"Importantly whilst the physical activity is massively important, equally as important is the community and camaraderie that has been established for Tom. As you will know well, young people with learning difficulties can find themselves socially isolated which can lead to significant mental health issues. You and your team are helping to avoid this in our young people by building friendships which I believe will last for years to come.
I would also like to thank you and your team for the summer intern programme which Tom has attended. Not only has this encouraged Tom to continue to develop his 3Rs it has also resulted in Tom travelling independently from Clapham to Craven Cottage and to Motspur Park. This is a significant life skill.
Could I commend to you, all of your team including Katy Shephard (what an amazing young lady), Ryan Dempsey and Joe.
Katy's leadership and coordination is exemplary. Her communication with parents is first class and her relationship with our young people is a bonding force within the group. She brings people together.
Ryan and Joe have achieved so much with Tom over the traineeship seeking to develop confidence, independence and employment skills. They have done fantastically well.
I wanted to share with you that Tom has recently found employment at a firm of solicitors in Holborn. He will be working in their post room service as a messenger. He will be engaging with the whole firm on a daily basis! Tom's confidence at interview and his ability to assure his new employer that he would be able to travel independently to work is central to their confidence in providing Tom with this next opportunity. These are skills which the Foundation has helped to develop.
You can see clearly the work that you are doing is changing lives in so many ways. Therefore if you ever have one of those days when the frustrations of the moment are a distraction…. rest assured you are making a significant difference.
I simply wanted to thank you for the change that you and your team continue to develop in our son, Tom
With all good wishes" Graham, Tom's Father
The future for Tom hopefully will see him continue to play as much football for his beloved Fulham as possible. As well as continuing to work on his social skills development. During the Adult Pan Disability Football sessions, he is able to interact with people he may not have done before, not only people with Down's Syndrome, but those with physical and non-intellectual disabilities as well.
Fulham FC Foundation aim to be able to offer the young people in the Adult Pan Disability group the chance to represent Fulham FC in future tournaments and friendly fixtures and to expand the programme to allow more participants like Tom the chance to develop their own social and communication skills through sports participation.